Return to the Office: Keeping Your Workspace Clean and Healthy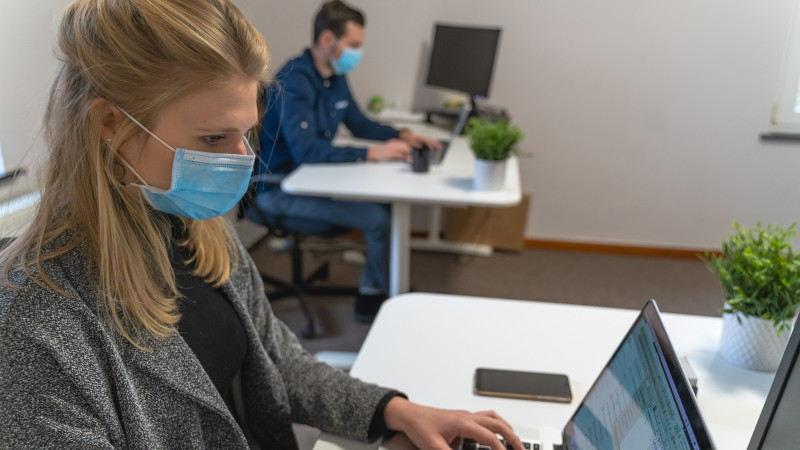 There is hope that office buildings will once again be humming with activity in 2021 as COVID-19 vaccinations roll out around the country. Many employees, however, will have some hesitation about returning to work, especially if they work in a shared space collaborative environment.
According to an article by the publishers of "Facility Cleaning Decisions "magazine, "It is a common practice to use open workspaces where many people may use the same surfaces and objects throughout the day …While this can be great for collaboration, it increases the chances of spreading infection." While the COVID-19 pandemic is still documenting record infections, hospitalizations, and deaths, maintaining a healthy work environment and preventing the spread of infections is the top priority of building owners and facility managers.
Even if your office building does not have tenants using hot-desking or other innovative work techniques, you will want to pay attention to CDC guidelines for office buildings because germs can spread fast at work. A University of Arizona 2013 study found that, "when someone comes to work sick, about half of the commonly touched surfaces in the office will become infected with the virus by lunchtime."
CDC Recommended Steps to Keep Your Building Healthy
The CDC has compiled a detail list of steps that office building employers, owners and managers can take to make sure their work environment is healthy and safe during COVID-19. Among the steps that can be taken:
Increase Ventilation Rates
One of the best tactics to keep your workspace healthy is to increase ventilation rates in your office building. The EPA says, "An important approach to lowering the concentrations of indoor air pollutants or contaminants including any viruses that may be in the air is to increase ventilation – the amount of outdoor air coming indoors. Ensuring proper ventilation with outside air can help reduce the concentration of airborne contaminants, including viruses, indoors."
The CDC says you should:
Increase outdoor air ventilation, using caution in highly polluted locales
Disable demand-controlled ventilation
Open minimum outdoor air dampers to as high as 100 percent to reduce or eliminate recirculation.
Install MERV-13 or high air filters, or highest compatible with your system
Seal edges of air filters to limit bypass
Keep systems running 24 hours a day if possible
Provide Hand Sanitizer and Other Tools to Keep Clean
In the early days of COVID-19, hand sanitizer became a precious commodity like gold and it is one resource you need to stock up on for your office building. Place hand sanitizer and wipes around the office building in all high-traffic areas like foyers, kitchens, meeting rooms and near elevators and stairs.
Interestingly it is recommended to not place hand sanitizer in office building restrooms because the washing of hands with hot water and soap is preferred to using the hand sanitizer, which should be saved for those areas where water is not available. Also provide touchless trash receptacles around the office building to dispose of sanitizing wipes.
Perform Routine Cleaning on High-Touch Surfaces
All high-touch surfaces need to be cleaned frequently, sometimes multiple times per day. If the high-touch surfaces are dirty, clean them with detergent and water and then disinfect them. A list of products that are EPA-approved for use against the COVID-19 virus can be found on the CDC website. Some communal items, such as coffee pots, bottled water coolers and bulk snack bins should be replaced with single serve options or taken out of service.   
The high-touch surfaces you should clean frequently include:
Workstations
Keyboards
Telephones
Handrails
Doorknobs
Elevator buttons
Light switches
Faucets
Toilets
Printers and copiers
Refrigerators
Microwaves
Maintaining mask-wearing and six feet of social distancing inside office environments can help stop the spread. Desks and chairs should be spaced apart where possible.
When an employee in the office environment has been diagnosed with COVID-19, then enhanced cleaning and disinfecting of the shared workspaces should be implemented. Contact us today to see how our efficient and cost-effective services can help your business maintain a healthy workspace.