Follow This 2-Step Process to Disinfect, Safely Reopen
July 27, 2020
Someone Tests Positive for COVID-19 in Your Building?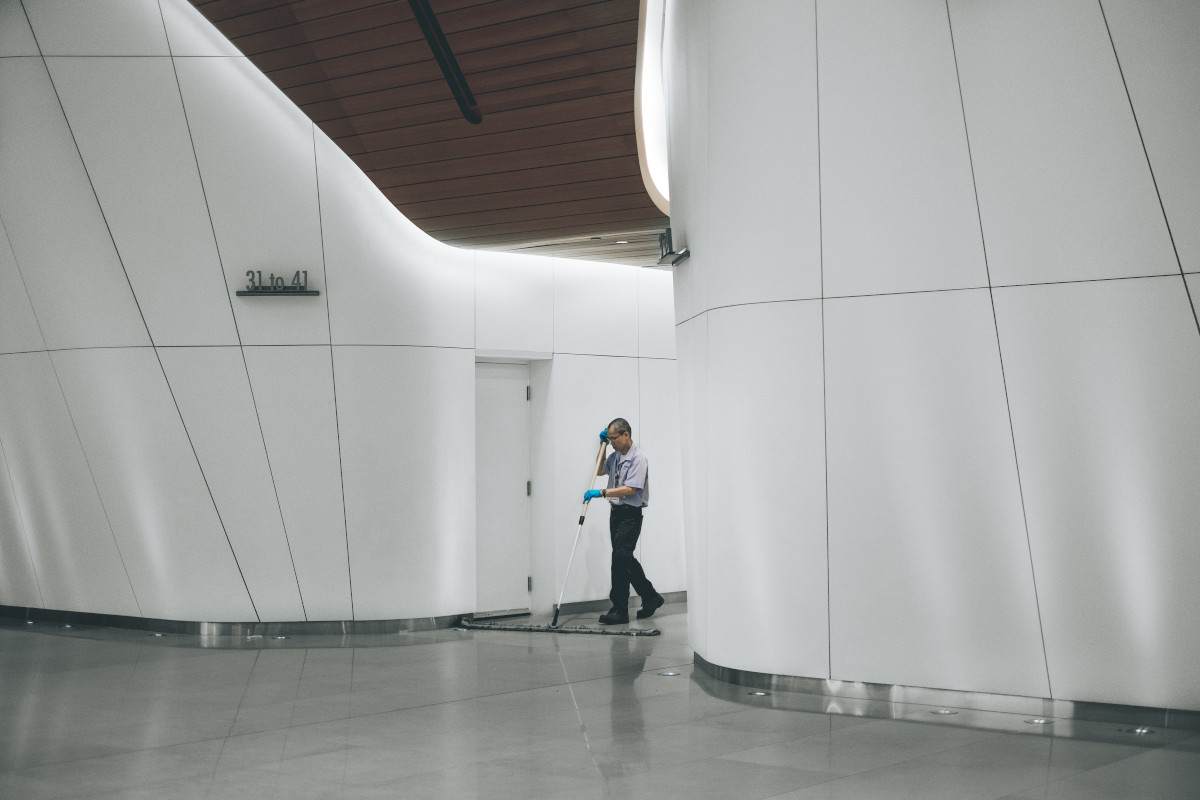 The first rule of creating an emergency action plan for your building is to think of the unthinkable and then prepare for it. In the Houston area that typically means preparing for flooding or hurricanes, or even the random tornado that touches down.
In 2020, however, the unthinkable relates to the COVID-19 pandemic.
You hope it never happens, but what should your response be if someone tests positive, or suspects they are positive, for COVID-19 in one of the offices in your building? To get your offices reopened safely and timely, you will need to perform CDC-advised cleaning and disinfection for COVID-19.
Keep in mind, that the CDC says if it has been more than a week since the confirmed/suspected COVID-19 person visited the building, then additional disinfection and cleaning is not necessary.
If it has been within seven days, our experience is that an effective two-step process includes disinfecting the office to kill the existing virus and then laying down an antimicrobial barrier to
protect touch surfaces moving forward.
Step One: Kill Any Existing Virus
The first step, once you have identified a positive or suspected positive COVID-19 case in your building, is to shut down the area and kill any existing virus on all touch surfaces with a virucide.
The CDC guidelines recommends closing off areas visited by the suspected ill person. If possible, open outside doors and windows and use ventilating fans to increase air circulation in the area. CDC also recommends waiting 24 hours or as long as practical before beginning the cleaning and disinfection process.
Once the cleaning begins, concentrate on offices, common areas, bathrooms, shared devices (like tablets, touch screens, keyboards, and remote controls) used by the suspected/confirmed COVID-19 person, focusing especially on frequently touched surfaces.
At Noble Building Services we use the Victory Electrostatic Mister to apply the virucide, Virex II 256, to all touch surfaces. Virex II 256 has been used in hospital settings for its ability to kill a broad spectrum of pathogens including MRSA, E.coli, HIV-1, Influenza A and kills SARS-CoV-2 (COVID-19 virus). A bonus of Virex II 256 is that it is fast acting, disinfecting high-touch surfaces in 10 minutes. Virex II 256 comes in a non-odorous, minty scent.
The Victory Electrostatic Mister comes as a cordless backpack or handheld sprayer. Combined with a patented electrostatic charge, the Victory Electrostatic Mister applies an even coating to all surfaces, allowing double-charged particles to envelope all conductive surfaces – shadowed, vertical and underneath.
The CDC recommends wearing skin protection, such as disposable gloves, and to consider eye protection while applying he disinfectant. Also ensure adequate ventilation in the building while cleaning.
Step Two: Lay Down a Protective Barrier
After you have killed any existing virus, then you can proceed to the second step which is laying down an antimicrobial coating on all touch surfaces. Antimicrobial coatings can provide a barrier to germs and bacteria for up to three months.
At Noble Building Services we use the Victory Electrostatic Mister to apply RAZOR brand LAST disinfectant antimicrobial coating to all touch surfaces. RAZOR brand LAST is manufactured by Texas-based Microbial Defense Laboratories and is used in hospitals, schools, restaurants, hotels, office buildings and other locations.
Unlike harsh cleaners that leach to kill, the technology in RAZOR brand LAST inhibits the growth of microbes through a mechanical process and is durable enough to last for months on surfaces.
Taking these two steps and applying the right chemicals will enable you to tell your employees and tenants that you have taken the necessary steps to ensure a safe environment for anyone that enters your building.
At Houston-based Noble Building Services we have the knowledge and experience to provide efficient and cost-effective janitorial services, including disinfecting for COVID-19. Contact us to find out how we can help your business stay protected.